Eden Teeth Whitening, Dental Implants, Veneers
From routine cleanings and fillings to bruxism devices, Rockingham Family Dentistry is equipped to handle all your dental needs. To help you understand your options, we've included descriptions of some of our leading services on this page.
What Our Patients Are Saying About Us…
"OverallExcellent
Wonderful Dentist, Dr. Kamran and all of his associates are wonderful. The wait time was not bad at all and everyone is willing to help."
-Our Patient
"Have custody of my granddaughters and have been taking them. It took three visits for him to be able to give her the shot needed to do the filling. He was patient and kept trying and rescheduling. He did great with her!
Member Comments:
My granddaughter who is 7 has bad teeth and I had to take her to get them fixed. She is afraid of needles like most children and he continued to work with her even though he had to schedule 3 different appointments before he was able to get her to allow him to give her the shot so that he could get her mouth numb to do the filling. He never lost patience! Great Dentist!"
-Donna Odell
Personal Service and Attention
As your preferred dental services provider, we promise you the following…
Personal service and attention - To greet you as family, not just a "dental patient"
We'll keep your teeth healthy and pretty for your entire life
We'll take time with you as you need and want
We'll make your trip to the dentist as comfortable and pleasant as possible
We deliver state-of-the-art dental care
We use low-radiation x-rays
We'll treat you like family
We take care of the person, not just his or her teeth and gums
We see emergencies the same day
We are Preferred Provider (In-Network) for most of the dental insurances
We accept NC Medicaid, NC HealthChoice , VA Medicaid, Smiles For Children (VA) and VA Premiere
We accept all dental insurances
We offer financial arrangements and payment plans
We follow strict sterilization procedures for your health and safety
We treat adults and teens and offer pediatric dental care
We'll create a beautiful, confident smile
We have a convenient location in Eden, NC
And to be thankful and appreciative of you as our client
To provide you with these benefits, we focus on aesthetic and general dentistry and provide you with the most comfortable treatment around. Enjoy flat-screen TVs provided by our friendly doctor and staff. We will do our best to alleviate any of your concerns by explaining the procedure and options before any treatment begins.
State-of-the-Art Dentist
Just as in computers and medicine, dentistry has made enormous advancements in technology. New dental materials, advanced equipment and procedures, and much more advanced medical research have allowed dentists to produce miracles in saving, reconstructing and improving the appearance of people's teeth and smiles.
Would you buy a 10 year-old computer? Would you go to a medical doctor who stopped learning any new medical technology and research in the past 10 years, and only delivered outdated 10 year-old medical care?
Of course not. So make sure your dentist uses the most up-to-date procedures and materials to produce the best possible results as painlessly as possible. Dr. Hameed takes advanced continuing education every year to keep up with the latest technology. They also take time with each person, ensuring the most desirable results.
Dental Services
In our dental office we deliver a full range of dentistry to adults, teens and children:
Teeth Cleaning
Teeth Whitening
Treating Toothaches
Fixing Broken or Decayed Teeth
Gum Disease Treatment
Tooth-colored Fillings
Crowns
Oral Cancer Screenings
Zoom Professional (In-House Teeth Whitening)
Bridges
Dentures
Root Canal Therapy
Sealants
Fluoride Treatment
Extractions
Full range of cosmetic procedures
Pediatric Dental Services
Implant Crowns
General Dentistry
General Dentistry is the application of several restorative processes aimed to repair tooth structure and preserve your natural teeth.

Good dental hygiene and health is fundamental in achieving general well-being. Investigations show, inadequate oral health can be connected with several serious conditions. Heart Disease, Cardiovascular Disease, Respiratory Disease and an increased risk of stroke; are all more likely to occur if the patient also suffers from poor dental health. Through the measures of General Dentistry, natural teeth can be saved and kept healthy for life.

A healthy, fresh appearance and smell within the mouth are the results of good dental health. Correct brushing and flossing techniques are fundamental in the maintenance of teeth and gums. Speak with Dr. Hameed and our hygienist at your next dental appointment for the best way to brush and floss your teeth. Other essential Preventive Care steps that will help you achieve healthy teeth and gums include;
Use a soft toothbrush with rounded bristles
Replace your toothbrush every three to four months
Change your toothbrush after an illness
Brush twice daily
Use toothpaste with fluoride
Attend Periodontal check-ups
Have oral cancer screenings
Dr. Hameed also recommends visiting your dentist on a six monthly basis for a thorough examination and cleaning.
Preventative Dentistry
Cleanings:
The American Dental Association recommends you see your dentist at least twice each year for a checkup. Basic dental cleanings are necessary twice per year to remove tartar and debris, which is impossible to remove at home. During this appointment, both the hygienist and doctor will examine your teeth, gums and entire mouth for evidence of decay, broken fillings, gum disease and oral cancer. This is your best resource to keep your mouth in optimal shape for years to come. Gum disease alone has been linked to a variety of problems including heart disease and low-birth weight babies.
We prefer to help you maintain optimal oral health so that you never have to worry about gum disease. However, if you develop periodontal problems, we're here to help you. We may also suggest a deep cleaning, which involves:
Scaling to remove tartar from below the gum line
Root planning to smooth rough root surfaces where plaque builds up
Call to make your six-month hygiene appointment now!
Digital X-Rays
Our office is proud to offer digital X-rays, an excellent alternative to traditional X-rays. They produce 90% less radiation than traditional X-rays and are 5 times more precise and develop immediately.

X-rays will be taken as you need them when you come to the dental office. Usually, bitewing x-rays will be taken once per year during a cleaning appointment. Bitewings show us in between your teeth and help us detect cavities that we cannot visualize clinically. This early detection often can prevent you from needing more expensive dental work. Panoramic x-rays are an excellent method to see wisdom teeth (3rd molars). Panoramic x-rays also allow us to examine the bones of the jaw for various abnormalities. Other x-rays are taken on a case-dependent basis to aid in diagnosis and treatment planning.
Intraoral Camera
The intraoral camera is an amazing diagnostic tool for viewing different angles in the mouth that we would not have been able to just a few years ago. The camera gives us the ability to view the entire mouth on a monitor so that we can get a closer look at any potential issues or problems that may arise. In addition, the patient will have the ability to see for themselves first hand the same images we are seeing. These digital images are also excellent for gaining procedure acceptance from insurance companies.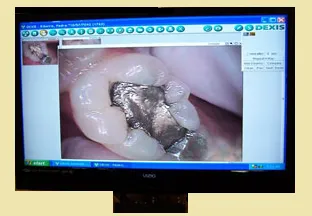 Gum Care Services
You may not realize it, but studies show that nearly 80% of the population has some significant, undetected level of chronic gum disease, which can lead to tooth loss, bone loss, and is linked to a whole host of other general physical ailments as well. That's why daily home care and visiting your dentist on a six monthly basis for a thorough examination and cleaningis very important.

Our Gum Care Services include:
Charting & Diagnostic Services
In-Office Therapy: scaling, root planning, irrigation
Oral Hygiene Instruction

Tooth Colored Fillings
Fillings:
Fillings will be placed when small cavities are detected. Our office places only white, mercury-free fillings. This material is called composite resin and it chemically bonds to your tooth for a very esthetic result.
White Fillings:
Gone are the days when ugly, obvious amalgam fillings were the only solution to cavities. Today, our office--- which is entirely mercury free ---offers white or resin fillings. All are durable, comfortable and long-lasting.

Extraction and Wisdom Teeth
Wisdom teeth extractions are a fairly common procedure. Wisdom teeth often cause problems as they are trying to protrude through the gums. When a wisdom tooth is impacted, it means the tooth is coming in at an angle and not straight through the gum line. This can cause pain, the tooth can come in unevenly, or the tooth may only emerge partially.

When a wisdom tooth only emerges partially a flap of skin, called an operculum, may form over the tooth. This can make the tooth hard to clean, and pieces of food may be caught under the skin. This makes it easy for an infection, called pericoronitis, to develop. It will usually go away on its own, but it causes swelling and pain in the area.

Impacted teeth and wisdom teeth that can potentially cause problems, like infections, need to be removed. Extractions can range from a single tooth, to removing all four wisdom teeth at once. Based on the preference of the doctor and/or the patient, a local anesthetic could be used to numb the areas where the teeth will be extracted.
You will be limited to soft foods for a few days after your extraction. Some recommended foods are:
Gelatin
Pudding
Yogurt
Mashed Potatoes
Ice Cream
Thin Soups
...and other food you can eat without chewing.

When drinking, make sure you do not use a straw. The sucking motion can loosen your sutures and slow the clotting process. The same goes for smoking.
Bonding
If you have a chipped, slightly misaligned, or otherwise imperfect tooth that needs cosmetic restoration, we may suggest one-appointment bonding. Dr. Hameed can apply composite resin, shaded to blend with your tooth's color, to rebuild a pleasing shape to your tooth. After hardening the resin with a curing light, he will artistically sculpt and polish the restoration. In just one visit, you can enjoy a beautiful new smile! Cosmetic bonding can be a viable, affordable alternative to porcelain veneers, but it lasts only 5 to 10 years with proper care. Bonding will not discolor as your natural tooth enamel will, so touch-up teeth whitening may be required to keep your natural teeth the same shade as the bonded area.
Crowns & Bridges
Crowns:
Crowns may become necessary for a variety of reasons. There are a few options for crowns. They can be all porcelain (very esthetic for front teeth), gold (a good option for back teeth, especially for people who grind their teeth), or porcelain fused to metal. Crowns can reshape teeth to a more ideal look. Also, they may become necessary when a tooth has an extremely expansive cavity or for a tooth that is mostly filling. Crowns are used to restore teeth when fillings are no longer an option. Sometimes, teeth can get cracks or fracture lines in them. This is usually the result of grinding, ice crunching or old, large fillings. Sometimes these teeth begin to hurt when exposed to cold and certain other stimuli. A crown is indicated for this "cracked tooth syndrome" as a method to remove the crack and seal the tooth.
Bridges:
Do you feel insecure about your smile because you have gaps or missing teeth? Do you experience difficulty chewing or speaking? Are you looking for a more permanent, less obvious alternative to dentures? If so, consider bridges. Bridges---lightweight structures lined with natural-looking crowns----are anchored into place, filling gaps discreetly and providing strong support.

Root Canals
Root canals become necessary when the nerve in a tooth becomes inflamed or infected. This is usually caused by deep cavities or trauma. Occasionally, a tooth can begin to hurt for no apparent reason. When the nerve is involved to the point that it cannot recover, we initiate root canal therapy. During this procedure, we remove the entire nerve from the affected tooth, disinfect it and seal it. This is typically done in one appointment unless heavy infection is present.
Dentures & Partials
When most or all of your natural teeth have been lost, dentures provide many benefits. They can restore your self-esteem, help you regain your eating ability, allow you to speak more clearly and provide support to the lips and cheeks. Essentially, they can make you look years younger! There are several types of dentures available, including complete dentures (inserted after remaining teeth have been extracted and gums have healed), immediate dentures and partial dentures, which act much like bridges but are removable.
Zoom! Teeth Whitening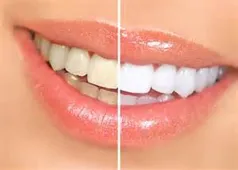 When you meet someone, your smile is the first thing they see. There are a number of things that cause stained teeth, and it is difficult if not impossible to avoid them all. This is why many people choose to whiten their teeth. With revolutionary Zoom! Whitening, you can turn back the clock and transform your smile.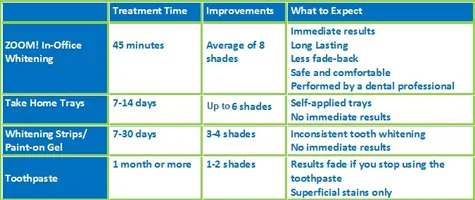 Unlike other whitening systems, Zoom! Whitening is a simple and short procedure performed by your dentist. Not only is it safe and comfortable, but the results are immediate and long-lasting. 3 to 4 fifteen minute sessions of Zoom! Whitening is all it takes to brighten your smile up to eight shades.
Make an appointment today for your Zoom! Teeth Whitening.
Home Whitening
If you're looking for a transition to a brighter smile, consider home teeth whitening. Unlike over-the-counter systems, Dr. Hameed prescribes professional-grade teeth whitening. Each kit comes with custom-molded mouth trays that hold a potent, safe bleaching gel snugly against tooth enamel. The stain-lifting action goes to work during the first application. In about two weeks, your smile can be as sparkling as it would with in-office treatment.
One very attractive benefit of home teeth whitening is that you can reuse the custom mouth trays indefinitely. When your tooth enamel begins to dull, simply begin treatment again. Call Rockingham Family Dentistry to order additional bleaching gel as needed.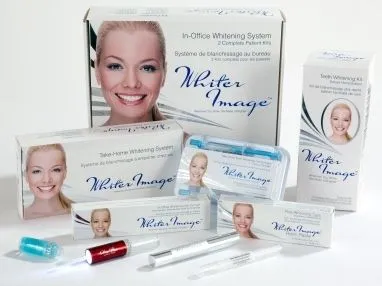 Cosmetic Services
Your smile is one of the most unique aspects of your appearance, affecting your relationships, your career, and your confidence. Yet, many people take their smile and all its flaws for granted...if it contains dull, stained, chipped, uneven, or even missing teeth, they simply use it less and less. Instead, why not consider the amazing array of easy, effective, life-changing cosmetic dentistry options available today? If you're like so many other patients, you'll find that even a few small enhancements can greatly improve your outlook. And, you'll find out what it feels like to love your smile.
Night Guard & Sports Guard
A night guard can be an easy fix for countless uncomfortable dental issues including clenching or grinding, stress to your TMJ and headaches. Wearing a custom night guard offers effective and comfortable protection. Please call and ask us for more details or ask Dr. Hameed at your next visit with us.
Do you play sports? Would you like to reduce athletic stress on your mouth? Do you want to greatly reduce your chances of a concussion if you were to get hit the jaw? If so, ask us about our Sports Guards.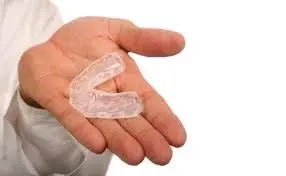 Care You Can Trust
We use advanced instrument sterilization as recommended by the American Dental Association and the Center for Disease Control. We strictly observe all Occupational Safety and Health Administration (OSHA) guidelines. We are HIPAA compliant and fully protect your personal information.