Eden Dentist - Eden Dental Office
Comfort and convenience are the hallmarks of Rockingham Family Dentistry's office operations. To ensure your convenience, below is the information you need about our hours, location, appointment scheduling, insurance acceptance and billing.
What Our Patients Are Saying About Us…
"I always seem to be able to get in when needed. No long waits in the waiting room. My children go here also and Dr. Hameed gave my daughter at 7 a shot and she never cried."
-Debra
"I would like to say that Rockingham Family Dentistry is a wonderful dentist office to work with. My husband broke his tooth and Dr. Hameed fixed his tooth. While waiting several months on the insurance to decide what they wanted to pay the office was very helpful in filing all the papers each time the insurance company requested more. They have been a wonderful Dentist office to work with and their work is good and also their staff is great."
- Sara Richardson

Gentle and Affordable Family Dentistry with High Standards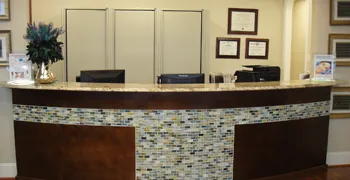 When you visit our office in Eden, your smile is our top priority . Our entire dental team is dedicated to providing you with the personalized, gentle care that you deserve. Part of our commitment to serving our patients includes providing information that helps them to make more informed decisions about their dental health needs. Dr. Hameed and the staff undergo continuous training to stay current on the best methods to serve our patients. Should a dental emergency occur, we make every effort to see and care for you as soon as possible.
Preventive Dental Care & Education
As a practice, we are true believers that preventative dental care and education are the keys to optimal dental health. We strive to provide " dental health care " vs. " disease care ". Dr. Hameed would like to emphasize the importance of visiting your dentist at least every six months. We will get your teeth their cleanest, take x-rays when necessary and Dr. Hameed will personally check for cavities and signs of periodontal disease and oral cancer. Plus, when it is all over, we will show you how to take great care of your teeth and gums at home in between visits. Together, we will keep you smiling for a lifetime. Not only are we focused on the beauty of your smile, we're also concerned about your health. A review of your medical history can help us stay informed of your overall health, any new medications, and any illnesses that may impact your dental health.
Children Play Area

Our office is specifically designed to encourage your child to look forward to dental checkups! And to make children feel relaxed and comfortable, with a variety of fun activities available. kids love our dedicated Kid's play area which is where kids of any age can play, watch TV, play Xbox video games and generally entertain themselves while waiting for their appointment or while waiting for mom or dad to finish their appointment.
From Ages 1 to 101
We are happy to treat patients of all ages…from 1 to 101. In many cases, younger patients are particularly apprehensive about visiting the dentist, and Dr. Hameed has not only the skill, but the tenderness to alleviate these fears.
Office Hours - Open Saturdays and Late Evenings
We here at Dr. Hameed's office realize the busy and hectic schedules that our patients lead. In an effort to make our dental services more convenient to your schedules, we are open two Saturdays a month and Late till 6:30 for your convenience.
Our office is conveniently located in Eden and our office hours are as follows:
Mondays:
8:30am – 5:30pm
Tuesdays:
8:30am – 5:30pm
Wednesdays:
9:00am – 6:30pm
Thursdays:
8:30am – 5:30pm
Fridays:
8:30am – 5:30pm
Saturdays:
8:30am – 2:30pm (Two Saturdays each month)

Accepted Dental Insurance Plans
We are Preferred Provider (IN-Network) for your insurance plans to greatly reduce your Out-Of-Pocket expenses and we accept most dental insurance plans.
We also Accept NC Medicaid, NC HealthChoice , VA Medicaid, Smiles For Children (VA) and VA Premier.
You don't have to pay the full amount at the time of your dental services, either -just your estimated deductible or estimated copayment.
Unlike a lot of dentists, we will actually file your dental health care claims for you, so you won't have to bother with all that annoying paperwork.
We are a preferred provider (In-Network) with many dental insurance plans. Below is a partial list of insurance companies whom we accept or are preferred providers (In-Network):
Aetna
Ameritas
Principal
Assurant
Dental Health Alliance (DHA)
Blue Cross Blue Shield / Anthem
Cigna
Liberty Dental
WellPoint
Connection Dental
Primary Physician Care
Delta USA
Medcost
Advantra Freedom
UniCare
Delta Dental
Dentemax
Guardian
Humana
MetLife
United Concordia
United Healthcare
DeltaCare
Comp Benefits /CompDent
UMR
ACS Benefits
Lincoln National Life
Securian
Central States
Don't see your dental insurance plan? Just ask – odds are we accept it. To verify that your insurance health care plan is accepted or you have questions regarding your dental benefits, please feel free to call our office for more information.
Payment Options - Billing and Financing Options
At Rockingham Family Dentistry, we make it a point to exceed your expectations, not your budget. By keeping our prices reasonable, we see to it that everyone in your family can afford to get the dental health care they need. So when you walk out our door, you'll leave with a great big smile, not a great big bill.
Most people do not understand how dental insurance works or how much of a procedure is covered. Rockingham Family Dentistry has experts in dental insurance that can simplify how your insurance coverage can be maximized to leave you with as little out of pocket cost as possible. We'll help you understand and maximize the benefits your insurance provides.
Our office accepts most dental insurance plans and will file claims on your behalf, saving you the time and hassle. You'll know upfront what your insurance plan will pay for and will be provided options for taking care of any remaining balance on your dental treatment plan.
Choose the Way You Want To Pay
We offer several payment options to allow your dental treatment to fit your personal budget. For your convenience, we accept the following forms of payment:
Cash
Personal Checks
Credit Cards
Dental Care Financing Plan
We accept VISA®, MasterCard®, Discover® and American Express®.
Dental Care Financing Plan
At Rockingham Family Dentistry, we believe that nothing should come between you and a great smile. That's why we offer Care Credit. Care Credit is convenient, no initial payment, low monthly payment plans for dental treatments. You can even apply online from your home computer. Our financing option help you get the dental treatment you need and deserve!
Enhancements to Our Office
Rockingham Family Dentistry is committed to providing our patients with the absolute highest quality of dentist service possible. This commitment can be seen in many of the new enhancements we've incorporated into our practice.
Computers and Flat Screen TVs in All Rooms,
We now have computers in all rooms, with advanced digital dental technology that allows us to care for our patients with a degree of precision that would have been unimaginable a decade ago. We also have intra-oral cameras and 32 inch flat screens. These resources allow us to give our patients clear understandings of what we want to accomplish on each visit.
Digital X-ray
Digital x-ray has replaced traditional method of developing x-rays in our office. Digital x-ray decreases radiation dose up to 90% compared to traditional x-ray without compromising the quality of the image. No chemicals are used in this process and thus better for the environment.
Appointments
By making an appointment today, you are making an investment in your total body health—to keep you healthy now and in the years to come.
To make an appointment or to get more information about Rockingham Family Dentistry , please call us at (336) 623-2221 or fill out the online form and a member of our staff will contact you.
Quick Appointments – Open on Saturdays and Late till 6:30
Our hours are flexible enough to meet the needs of even the busiest of patients. That's because we have late hours until 6:30 and are open two Saturdays each month for your convenience.
Dental Emergency
Tooth Pain?
Cracked or Broken Teeth?
WE OPEN AT 8:30 AM!!
OPEN WEDNESDAYS UNTIL 6:30 PM!!
OPEN 2 SATURDAYS A MONTH
WE CAN TREAT YOU THE SAME DAY IN MANY CASES!!!
Call Our Office Now! 336-623-2221
The very best in quality dentistry has never been this easy or accessible!!

Many people have a genuine fear of the dentist. Dr. Hameed and his caring staff understand this and take every step possible to alleviate the stress of emergency dentistry and the treatment of tooth pain.
If You Have A Dental Emergency, Call Us Now At 336-623-2221 So That We Can See You As Soon As Possible.
Many times a dentist office will tell you that they cannot see you for several days. We take very seriously the fact that someone is in pain and needs to have the opportunity to be seen as soon as possible. Our office will make every accommodation reasonable to see emergency patients the same day that they call, and if possible do the treatment the same day. Even if we have to schedule the treatment for one or two days out, we will address the pain and infection issues that the patient has in order to make you as comfortable as you can be until the treatment iscompleted.

Many times a tooth that is infected or inflamed will be very sensitive to hot or especially cold. Cold drinks will cause pain to shoot through the area around the tooth. Pain when biting down and applying pressure to the tooth is also a telling sign of infection or abscess. These symptoms may linger or come and go, but once you experience them they are likely to only get worse.
Proud to Serve Military Families
At Rockingham Family Dentistry, we are deeply honored to provide comprehensive dental care to members of the United States Military and their families.
Uncompromising Safety
At Rockingham Family Dentistry, your comfort and safety are our primary concern. With this in mind, we adhere to the strictest of sterilization measures. All instruments are meticulously cleaned before each use, and Dr. Hameed and his staff are always totally protected for your safety and confidence. We strictly maintain sterilization and cross contamination processes using standards recommended by the American Dental Association (ADA), the Occupational Safety and Health Administration (OSHA), and the Center for Disease Control (CDC).
Training & Expertise
As your dental health professionals, we want you to be confident knowing that we are a team of highly trained and skilled clinicians. We pride ourselves in providing the care you need to keep your smile healthy. To give you the best possible service and results, we are committed to continual education and learning. We attend dental lectures, meetings, and dental conventions to stay informed of new techniques, the latest products, and the newest equipment that a modern dental office can utilize to provide state-of-the-art dental care. Also, being members of various professional dental associations helps us to stay abreast of the changes and recommendations for our profession.